Hosszabban szeretnék picit foglalkozni a ZOP-val más névenZöld hitellel bemutatva ennek a programnak a lényegét és a körülötte lévő őrületet. Azért beszélek őrületről, mert tényleg őrület, ami a program körül zajlik. Aki benne van – legyen szó ügyfélről, banki ügyintézőről vagy tanácsadóról, de még a bankvezérekről sem megfeledkezve – szerintem kivétel nélkül visszaigazolná az állításomat. Kicsit előre ugorva a témában (aztán majd visszatérünk a kezdetekhez) kevesen tudják, de konkrétan az elmúlt hetekben szinte sohasem látott bankroham volt. Ha azt mondom, hogy 1 hónap alatt csak ebben a témában körülbelül 150 Mrd Ft-nyi hitelkérelem került be a bankokhoz, úgyhogy a meghirdetett keretösszeg összesen 200 Mrd Ft volt, – és induláskor kb. 1 évet jósoltak neki, ami azt jelentené, hogy idén ősz környékére saccolták a keret kimerülését, ehhez képest április van – szerintem mindent elárul. Több banki partnertől hallottam, hogy este 8-10-ig bent voltak, ráment minden szombatjuk, hogy bírják a rájuk rakódó terhet, mondhatni tényleg csak aludni jártak haza. Ezúton is köszönöm nekik az állhatatos munkát az ügyfeleim, jómagam és tanácsadó kollégáim nevében!
Kezdetek
Az MNB Zöld Programja 2019. januárban került elfogadásra és publikálásra. A program célja, hogy proaktív lépéseket tegyen az MNB felügyeleti ága is a klímaváltozás elleni harcban. Nyíltan törekszik arra, hogy mind a jegybank saját tevékenysége, mind a hazai pénzügyi piacok és a pénzügyi közvetítőrendszer működése a prudenciális elvárások maximális teljesítése mellett minél nagyobb mértékben járuljon hozzá az ökológiai kockázatok érzékeléséhez, felméréséhez, megelőzéséhez és kezeléséhez, valamint Magyarország klímapolitikai céljainak teljesítéséhez.
Az alábbi ábra összefoglalása az MNB Monetáris Politika zöldítésének irányairól. Fenti stratégiai célkitűzések egyik a programja a zöldhitelezés, pontosabban annak ösztönzése.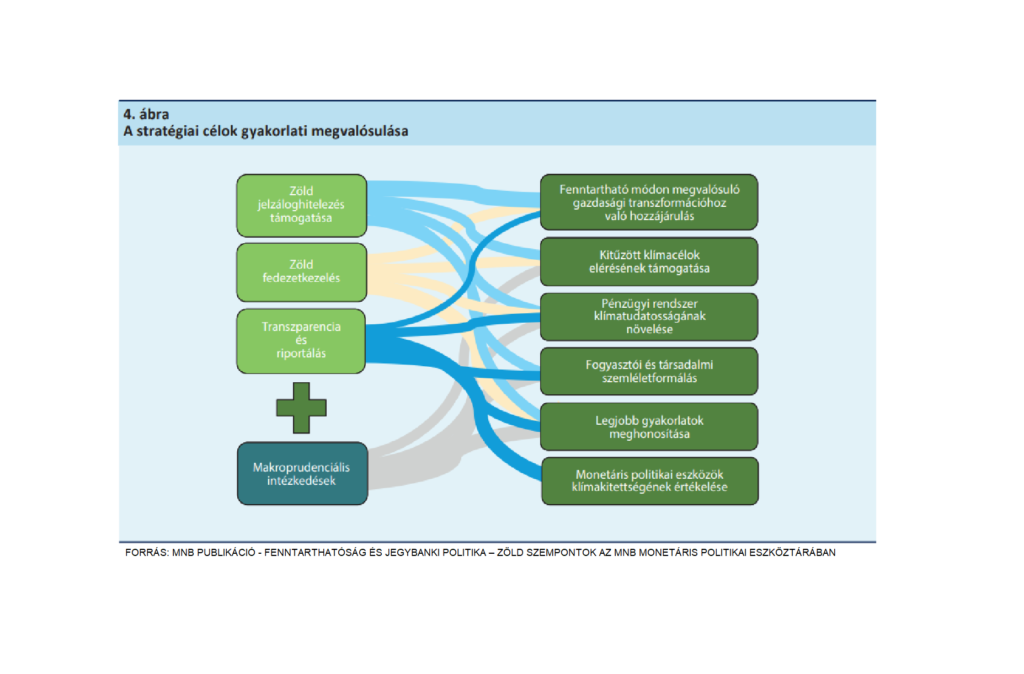 Ennek irányelvei alapján a hazai klímavédelmi célok eléréséhez jelentősen hozzájárulna az energetikailag elavult lakóingatlan-állomány megújítása, ugyanis jelenleg a hazai primer energia-felhasználásának közel negyedéért felelősek. A nemzetközi definíció szerint ún. zöld ingatlan besorolást a hazai lakóingatlan-állomány (energetikai szempontból) mindössze néhány százaléka éri el. Sőt, nemzetközi összehasonlításban a megújítási ráta is alacsonynak tekinthető és az új ingatlanok esetében is ugyan korszerű, de kevésbé energiatakarékos, azaz jelentős a BB besorolás alattiak aránya. Tehát itt is érdemi tér áll rendelkezésre az energiahatékonyság növelésére. Továbbá az energetikailag elavult lakóingatlan-állomány megújítása is jelentős mértékben járulhatna hozzá a hazai klímavédelmi célok eléréséhez.
ZOP Elindulás
Ezen stratégiai célok elérése érdekében először nyár elején bejelentették, majd ősszel – 30 nappal az indulás előtt – a jogalkotó elküldte a bankoknak a részletes feltételeket, amely alapján a bankok jogászai elkészítették bankspecifikusan a konstrukcióikat. Ezt azért fontos kiemelni, mert vannak olyan bankok, akik például építési hitelcéllal nem is fogadnak be kérelmet. Nagyjából szeptember derekára lehetett információ morzsákat kiszedni a banki dolgozókból, akiknek szintén csak folyós pletykákból jutottak némi információhoz. Nem sokkal rá, 09.22-09.23 napon rendeztek egy hitelszakmai konferenciát, ahol az összes bank különböző témák előadása mellett külön kitértek a ZOP hitelek feltételeire, kondícióra, amelynek jellemzőit zanzásítva összefoglaltam.
Az NHP Zöld Otthon Program (NHP ZOP) legfontosabb általános jellemzői:
legfeljebb 2,5%-os, futamidő végéig fix kamatozás
max. hitelösszeg 70 millió Ft
max. futamidő 25 év
Ingatlanra vonatkozó feltételek:
Legalább "BB" energetikai besorolású új ingatlan vásárlására vagy építésére vehető igénybe (BB besorolás: energiafelhasználása minimum 25 százalékban megújuló forrásból származik, valamint éves primer energiaigénye 81 kWh és 100 kWh között van négyzetméterenként)
a primer energiaigénye legfeljebb 90 kWh/m²/év lehet
Személyi feltételek:
Az igénylő tulajdonába kell kerülnie az ingatlannak és ott legalább 10 évig életvitelszerűen kell élnie
Az adós mellett akár 3 adóstárs is szerepelhet az ügyletben
Az adóstársaknak nem kötelező tulajdonjogot szerezni az adott ingatlanban
Az adós/adóstársakon kívül más nem szerezhet tulajdonjogot, kivéve az ügyletben szereplők gyermekei öröklés után
Egy személy csak egy zöld hitel adósa lehet (kivéve, öröklés útján)
NHP Zöld Otthon OTK Lakáshitel (NHP ZOP OTK)
2 meglévő vagy vállalt gyermek esetén 10 millió Ft, 3 gyermek esetén 15 millió Ft
NHP ZOP + NHP ZOP OTK igénylés esetén az együttesen igényelhető maximális összeg 70 millió Ft
0%-os kamat a futamidő végéig, amennyiben az ingatlanra vonatkozó energetikai feltételek teljesülnek
max. futamidő 25 év
2021. október 04-től pedig hivatalosan is eldörrent a startpisztoly. Míg tavaly tavasszal, sőt egészen nyárig sima piaci (bankszlengben már csak így hívjuk) hitelre akár 2,95%-os kamatot is kaphattunk egyedi árazással több banktól, addig őszre, a ZOP elindulásával párhuzamosan egészen tágra nyílt az a bizonyos olló, hogy mára eljussunk odáig, hogy a legjobb piaci kamat is éppen 6% alatti szinten (04.14-ig még elérhető, akár 5,45%-os kamat is az egyik banknál, ugyanakkor igyekeznie kell annak, aki oda szeretné beadni a kérelmet, mert belsős info alapján ki fogják árazni magukat a piacról..).
Napjainkban
Ahogy a bevezetőben összefoglaltam, az elmúlt időszak brutális volt – több személyes sztorit is el tudnék mesélni illusztrációképpen – és azt hittük, hogy vége, megnyugodhatunk, fellélegezhetünk (valójában csak reménykedtünk benne), de belül sejtettük és várható volt, hogy ez még nem a vége.
Még múlthét csütörtökön (03.31) nyilatkozva árulta el Patai Mihály MNB-alelnök az MTI-nek, hogy gondolkodnak a Zöld Otthon hitelprogram kiterjesztésében, ennek ügyét a monetáris tanács elé viszik majd, amely a keddi (04.05) napon ülésezett. Elmondta, hogy a megkötött szerződések volumene elérte a 125 Mrd Ft-ot, a fennmaradó 75Mrd Ft-ot pedig felosztották a résztvevő bankok között. A nagy érdeklődésnek köszönhetően vizsgálják a keret bővítésének lehetőségét, ugyanis a bankokhoz beérkezett kérelmek volumene meghaladta a keret összegét.
Nos, tegnapelőtt ülésezett a Monetáris Tanács, ahol a várakozásinknak megfelelően arról döntöttek, hogy megemelik a keret összegét 100 Mrd Ft-val 300 Mrd Ft-ra, ám beépítenek egy szűkítő tényezőt az ingatlanok primer energia felhasználása tekintetében. Változatlanul BB kategória mellett, de 90 kWh/m2/év helyett 80 kWh/m2/év értékre csökken a limit mértéke, ami lényegében AA-s minősítésnek felel meg. Ahány lemaradó ügyféllel beszéltem, mindenkitől ezt kérdeztem először, hogy megvan-e a 80 kWh/m2/év alatti primer energiafelhasználási limit az előzetes energetikai számítás alapján, mert sejthető volt, hogy szűkíteni akarják az igénylők körét.
Mindössze 4 nap alatt, újabb 10 Mrd Ft-val emelkedve már meghaladta a 135 Mrd Ft-ot is a megkötött hitelszerződések volumene. Ez a bő 135 Mrd Ft 4189 megkötött szerződésből tevődött össze, ami azt jelenti, hogy átlagban 32,3M Ft volt az igényelt hitelösszeg. Bankoktól kapott információk alapján úgy becsüljük, hogy ennek a 100 Mrd Ft-nak már a fele is elfogyott (a befogadott igénylések alapján), tehát körülbelül 1 hónapjuk van a lemaradóknak, hogy beadják a kérelmüket a fennmaradó körülbelül 40-60 Mrd Ft-ra. Ha az eddigi tendenciát nézzük, akkor mindössze bő 1250-1850 embernek nyílik meg az újabb lehetőség. Ha belegondolok, csak az Én ügyfeleim körében van 8 lemaradó család az első keretből átlag 48,75M Ft-os tervezett, igényelt összeggel, ami eleve átlagon felül van, tehát nincs túl sok idő..
ZOP +100 Mrd Ft-os keret után
Egyelőre még nem tartunk ott, hogy vége, sőt aki olvasta az MNB FENNTARTHATÓSÁG ÉS JEGYBANKI POLITIKA – ZÖLD SZEMPONTOK AZ MNB MONETÁRIS POLITIKAI ESZKÖZTÁRÁBAN elnevezésű publikációját, az tudhatja, hogy az MNB zászlós hajójára tűzte a klíma változás problémájának kezelését és a fenntarthatóság jegyében olyan stratégiai célokat tűztek ki, amellyel egy zöldebb jövőt érhetünk el. Ezt a cikk elején kifejtettem, hogy az ingatlanok energiafelhasználásnak csökkentése jelentősen hozzájárulnak ehhez. Mivel a jelen gazdasági helyzet türelemre és kivárásra int mindenkit, ezért a keret több mint valószínű, hogy nem lesz újra meghosszabbítva egy ideig. Ennek több oka is van. Az egyik, hogy az MNB sok milliárdos veszteséget ért el az elmúlt időszakban, amelyet ki kell igazítania, másrészt a fókuszt most az árstabilitásra kell helyezni (gondoljunk bele, hogy az elmúlt háborús időszak következménye konkrétan szembe megy minden zöld szemponttal, egészen egyszerűen háttérbe szorították, remélhetőleg rövid távon).
Ennek rövidtávú következménye az lesz, hogy a piaci hitelek kamatjának mértéke tovább fog emelkedni (már most is vannak 7-8%-os kamattal banki ajánlatok) és az átlag elérhető kamatszint nyáron elérheti a 7, vagy akár 8%-ot is. Ez függhet az elhúzódó háború gazdasági hatásaitól, amelyek rányomják a bélyeget az inflációra. Tegnap Orbán belengedte, hogy maradnak a "STOP" intézkedések (KAMAT STOP, ÁR STOP), amelyek mesterségesen lenyomják az inflációt, de még így is közel 10% a szinten van (ha nem lennének ezek az intézkedések, akkor 12-14% közé is emelkedhetne az infláció mértéke).
Pénzügyi szempontból az egyik "STOP" intézkedés, a "KAMAT STOP", amely arra a célra szolgált, hogy a rövid kamatperiódussal rendelkező hitelek kamatszintjét befagyasszák. Erre azért volt szükség, mert Mo-on több százezer BUBOR-os hiteles van, ami azt jelenti, hogy nekik éven belül lejáró kamatperiódussal bírnak a szerződéseik. Az elszálló kamatok miatt mára elképesztő mértékű lett rövid időn belül a különbség.
Példaként egy átlagos 6 havi kamatperiódussal rendelkező lakáshiteles átlag 10M Ft 15 éves futamidővel 2%-os felárral számolva októberi adat alapján még 4,17%-on állt a kamata, mára pedig 8,87% lenne a Kamatstop nélkül. Ez törlesztőben annyit jelent, hogy 74.824 Ft helyett most 100.655 Ft lenne a törlesztője. 25.831 Ft havi összeget jelent havonta, ami 34,52%-os törlesztőrészlet emelkedést eredményez. EZ BRUTÁLIS!
Ez alap esetben nyáron lejárna, de az így is növekvő árak mellett extra terhet rakna családok költségvetésére. Az, hogy mennyire korrekt azokkal szemben, akik a biztonság miatt inkább hosszú kamatperiódust választották, más tészta (emlékezzünk csak vissza a régi devizahitelesek vs. drága forint hitelt választókra). Mivel ennek a biztonsági intézkedésnek egyszer csak vége lesz, a kamatok pedig nem fognak egy hamar visszamenni egy komfortos 4-5%-os kamatszintre, ezért egyetlen kiút van ebből, a minél előbbi kamatfixálás akár banki hitel kiváltással. Minél később lépjük meg, annál többe fog kerülni, de a legdrágább valószínűleg a BUBOR-os hitelben maradás lesz, amelynek kamata már most feljebb helyezkedik el, mint a hosszú kamatperiódussal rendelkező hitelek kamata…