Mivel Én is jogosult vagyok a kislányom után gyermeket nevelő szülőként az adóvisszatérítésre, ezért úgy gondoltam, hogy megcsinálom gyorsan – mint pénzügyekben jártas ember, akinek van tapasztalata az ilyen dolgokban – és készítek egy képes útmutatót, hogy mindenki magabiztosan mankóként használva meg tudja tenni kényelmesen 5 perc ráfordításával a nyilatkozatot.
Mielőtt rátérnénk a lényegre, fontos kiemelni, hogy kinek kell és kinek nem kell nyilatkoznia.
Nem kell nyilatkoznia?
Abban az esetben, nem kell nyilatkoznia, amennyiben családi pótlékot (továbbiakban CSP) kap, mert az ellátást folyósító szervtől a NAV megkapja a kiutaláshoz szükséges adatokat. Ilyenkor az adó-visszatérítést a NAV arra a postai címre vagy bankszámlaszámra fizeti ki, ahova a családi pótlék érkezik.
Ha például postán kapta és szeretné utalással vagy fordítva, akkor érdemes nyilatkozni. Akkor is érdemes megtenni a nyilatkozatot, amennyiben más számlászámra szeretné kapni az összeget. Miért emelem ki ezeket a példákat? Azért, mert itt sokan több százezer – akár 809 000 – Forintot fognak kapni és nem mindegy, hogy mit szeretnénk vele kezdeni. A legjobb és legáldásosabb dolog szerintem, ha ezt az emberek többsége félreteszi és nem költi el. Ilyen esetben például gondolkodhatunk különböző befektetésben is Állampapír, befektetési alap, részvény, deviza, stb.).
Kinek kell nyilatkoznia?
Azoknak, akiknek az adatai nem állnak teljes körűen a NAV rendelkezésére ahhoz, hogy 2022. február 15-ig megkaphassák az adó-visszatérítést, nyilatkozniuk kell.
Így tehát nyilatkoznia kell annak, aki:
családi pótlékra jogosult, de azt nem ő kapja, ezért nem áll a NAV rendelkezésére a kiutaláshoz szükséges postai utalási cím, vagy belföldi fizetési számlaszám. (ilyen vagyok Én is)
magzat után jogosult várandós nő és a vele közös háztartásban élő házastársa. Az ő, kiutaláshoz szükséges adataikat a NAV nem ismeri.
aki rokkantsági járadékban részesül, és év közben ő vagy a vele közös háztartásban élő hozzátartozója érvényesíti a családi kedvezményt. Az ő, kiutaláshoz szükséges adatait a NAV nem ismeri.
kisadózóként bejelentett magánszemély, és nem kap családi pótlékot. Az ő, kiutaláshoz szükséges adatait a NAV nem ismeri. (és ez is vonatkozik rám)
máshova kéri az adó-visszatérítés kiutalását, mint ahová a családi pótlékot kapja. (erről fentebb írtam részletesebben)
Szóval el is jutottunk oda, hogy lényegében sok mindenkinek kell nyilatkoznia. Persze, ha nem nyilatkoznánk idén dec. 31-ig, akkor az adóbevallásunkban is megtehetjük majd és biztos, hogy lesz majd erről több cikk is a neten, ami figyelmeztet, hogy el ne felejtsd, de szerintem a legegyszerűbb most 5 perc alatt túl lenni rajta.
Hogyan lehet benyújtani a nyilatkozatot?
A VISSZADÓ legegyszerűbb, leggyorsabban az Online Nyomtatványkitöltő Alkalmazással küldhető be a NAV-nak. Ehhez KAÜ-azonosításra van szükség például ügyfélkapu segítségével.
A nyomtatványt elektronikusan vagy papíralapon is be lehet nyújtani a NAV-hoz:
az Online Nyomtatványkitöltő Alkalmazásban (ONYA)
az Általános Nyomtatványkitöltő Keretprogram (ÁNYK) használatával vagy
papíralapon kitöltve, postán vagy személyesen. A papíralapú "üres" nyomtatvány letölthető és kinyomtatható itt.
Papíralapú benyújtáskor a nyomtatványt egy példányban kell a NAV a lakóhelye, illetve székhelye szerint illetékes igazgatóságához eljuttatni. Ha a nyilatkozatot papíron nyújtjuk be, feltétlenül írjuk is alá! Ha helyettünk törvényes képviselő, meghatalmazott jár el, a nyilatkozatot neki kell aláírnia! A nyilatkozat benyújtási határideje 2021. december 31.
Útmutató!
Én az Online Nyomtatványkitöltő Alkalmazásban tettem meg (ONYA), ezt fogom prezentálni képes illusztrációval.
Linkre kattintva az alábbi kép tárul elénk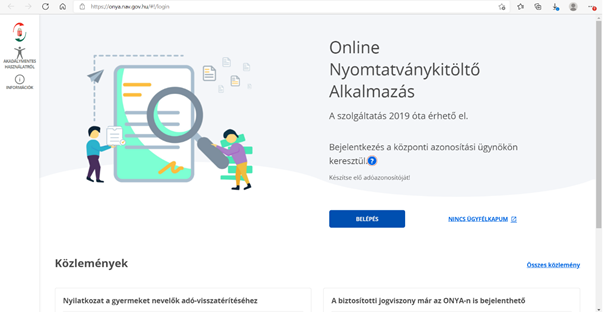 Kattints a belépés gombra! Utána fel fog ugrani az alábbi képsor: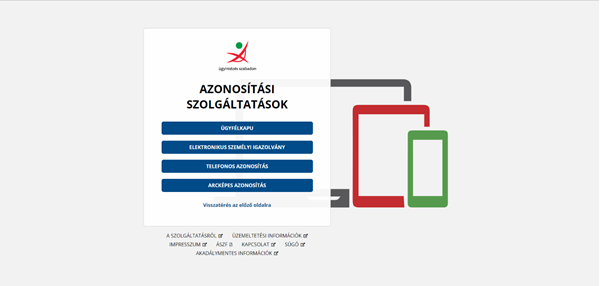 Lépj be, amivel szeretnél, Én az Ügyfélkapuval szoktam. Miután beléptél ezt fogod látni.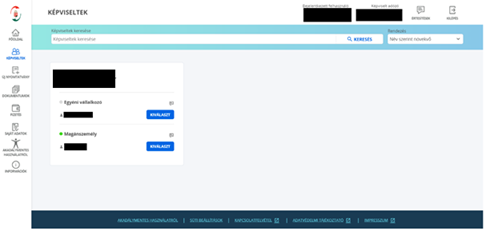 A szenzitív adatokat kitakartam, de a lényeg adott. Fontos, hogy magánszemélyként nyilatkozunk, tehát a kiválasztás gombra kattintsunk.
Kiválasztás után az alábbi kép jelenik meg.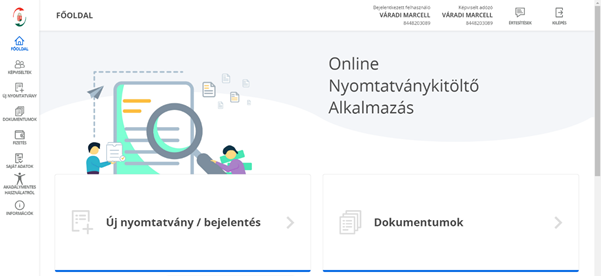 Következő lépés, az "új nyomtatvány bejelentés"
Ezt követően pedig válasszuk ki az "SZJA visszatérítés nevezetű nyomtatványt.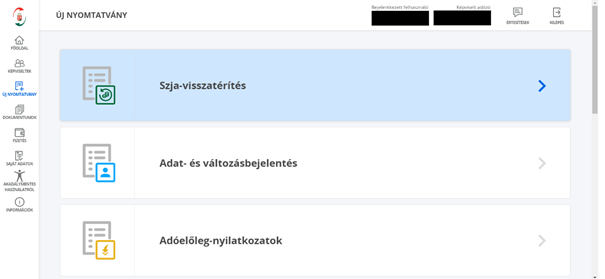 Felugrik a nyomtatványkitöltő, ahol értelemszerűen kell a hiányzó részeket kitölteni. Jelölnünk kell a gyermekünk/ gyermekeink adatait és a jogosultság jogcímét. A kitöltés után az "ellenőrzés és beadás gombra kattintva megtörténik a nyilatkozat beadása.
Miután végeztünk, az alábbi kép tárul elénk.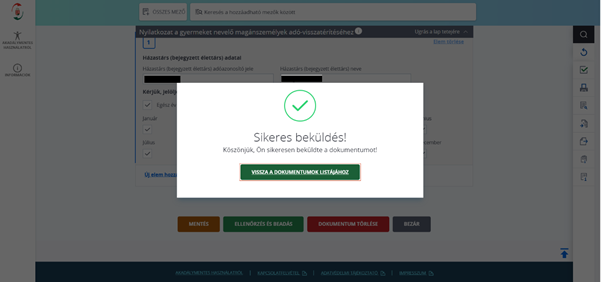 Amennyiben további kérdések felmerülnek a jogosultág tekintetében és/ vagy a nyilatkozat benyújtását megelőzően, részletes NAV által készített hivatalos tájékoztatóban további információk találhatóak és egy részletes kitöltési útmutató is az alábbi linken!